WORKSHOP ~ TOG CHOD ~ June 24th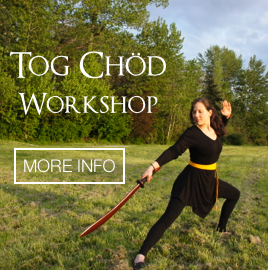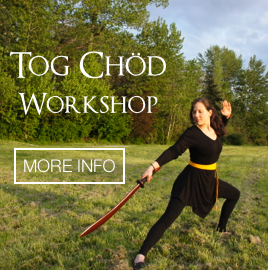 WORKSHOP ~ TOG CHOD ~ June 24th
Experience an empowering moving meditation to transform habitual thought patterns.

This choreographed dance with a sword is rooted in Tibetan Tantric Buddhism and is based on movements of the Kalachakra and Yama monk dances.

Tog Chod has deep symbolic meaning and is a practical method for developing mindfulness, self-confidence and clarity.
Participants will:
Learn decisive movements with a wooden sword that drop us into the present moment

Understand the importance of mind training and how we can use the body to do it

Receive the rich philosophy of this practice, including "creating a good dream", "the power of decision" and "life is one day"

Experience the power of mantra for setting intention and calming the nervous system

Have fun!!
With this practice, we face the only enemy there is—our own negative emotions.

Taught by Farrah Garan, in the tradition of Tulku Lobsang.

Date: Sunday, June 24th
Time: 10 am - 12:30 pm
Location:
studio12
2525 Eighth Street
Berkeley, CA 94710
*Note: If you prefer to pay with cash or check at the door, please register here.